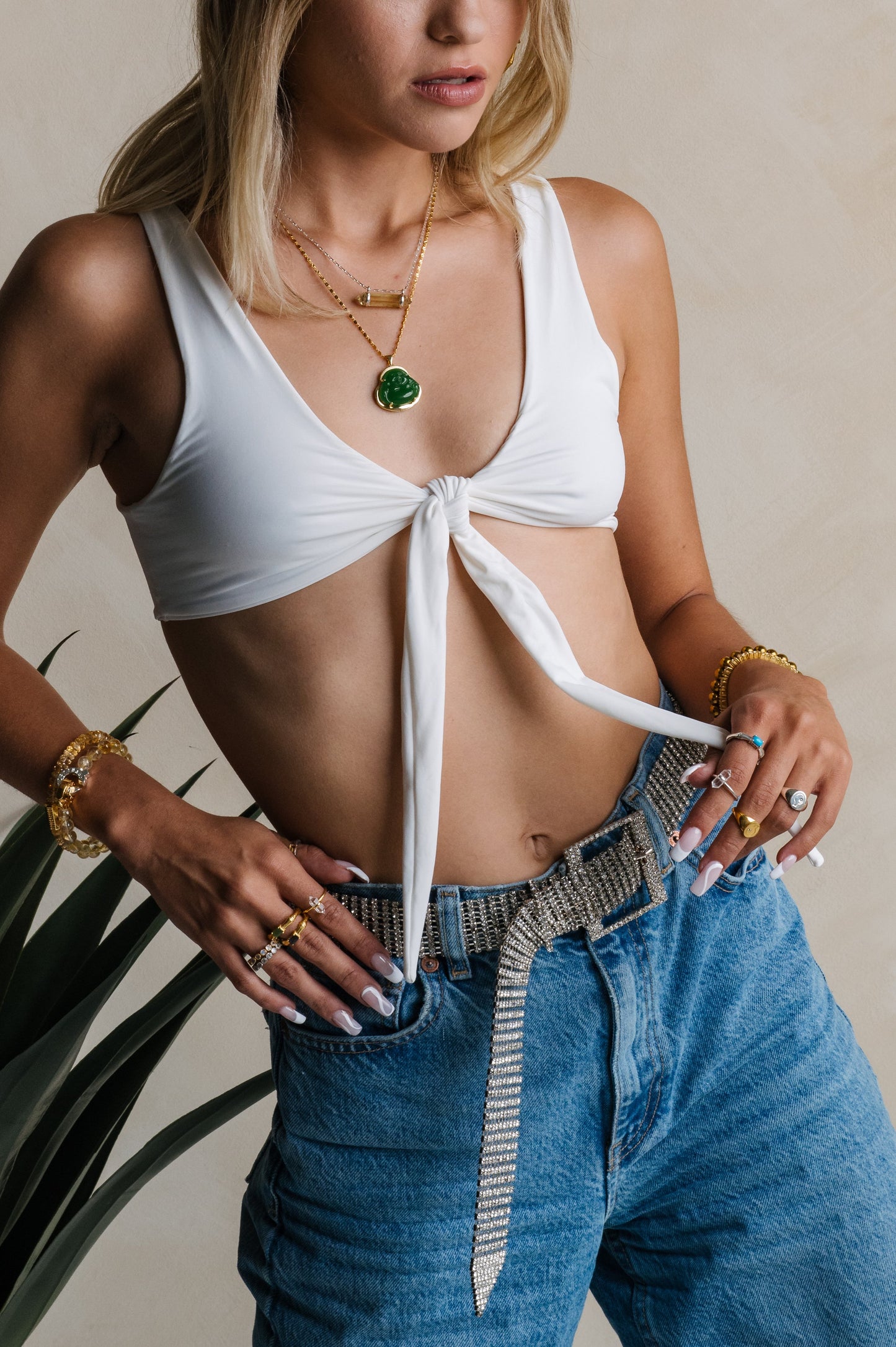 Create the best summer vibes with Q&C! Our jewelry trends to turn up the heat!
Summer is an exciting season filled with good times, good company, lots of sunshine and our favorite summer jewelry trends! This summer is about loving yourself physically and spiritually. We have selected our top styles to help you look and feel your best this summer. Remember, it's not how you look it's how you FEEL!
LAYERED & STACKED LOOKS
As the temperature rises and we officially ditch our sweaters, layers and stacks have become more popular. This year's summer vibe is to layer and stack, multiple pieces at once. Necklaces, bracelets, check out our Sage and Euphoria sets to help you get that perfect stacked vibe! If you're not into these mega stacks try pairing some of Q&C's best! We promise, your energy won't lie!
In this photo from top to bottom:
Infinity Bracelet Sunstone (Gold), Peaceful Eye Bracelet (Gold), Aligned Toggle Bracelet (Gold), Bamboo Bangle Loliote (Gold), Q&C Connected Bracelet (8mm Gold Clasp). 
Suggested:
The Aligned Toggle Clasp – whether you're a gold or silver person you'll love this piece for giving you the spotlight! Your energy will be amplified and this simple peace will upgrade your style. Available in Gold and Silver.
The Peaceful Eye Bracelet- This is a classic for the summer! Who doesn't love a good beachy evil eye. From the sands of Greece to the lores of Italy, our peaceful eye makes a subtle statement but protects you with force. Without a doubt there's going to be an extra sparkle to your outfit regardless of whether you add one or more. Available in Gold, Silver and Two-Tone. 
The Infinity Stretch – our MOST popular seller, the infinity stretch has powers that extend well beyond it's stretchy cord. The 8 sided abundance bead with the Q&C name adds a touch to sunstone, jade, and KUNZITE (coming soon). These are quickly little slips on the wrist that will allow you to quickly upgrade your style. Stack one with your favourite look or all three!
BLING AND SHINE
The more bling, the better! Summer is about brightness and gold tones. Even mixing precious metals together looks amazing and creates that extra bling! Sunstone is the stone for 2022 and we highly recommend checking out our NEW Celestial Bar Pendants available in many beautiful gemstone hues to give you that extra shine. Don't forget our classic Connected bracelet. These make you come to the table with a statement and a vibe of your very own! Our suggestions below are based on our most fiery pairings like: the celestial bar pendant and our Bamboo Buddha. Pair our jade cross with a layer chain or our Quartz Pendant for a unique look or add the cross to our Archangel collection and up your heavenly game! Here's a list of our top features for this summer season:
Suggested:                                                                                                          
Sunstone Bar Pendant in Gold or Silver. 
Smoky Quartz Bar Pendant in Gold or Silver
Bamboo Buddha Natural Jade in Gold or Silver
PEARLS
Reminiscent of high fashion designers, this pearl set adds to your look while giving you a little 90's je nes sais quoi! This piece is on the heavier side so be prepared to leave it alone or add some heavier looks to the pile! You can never over-stack. You'll regret leaving the house with one less piece on, not one more! Pearls are a classic piece; it will add something that is both timeless and modern to your collection for any season. It represents the sacred femininity like the Pearl: rare, birthed through time, and unique to each person. We recommend you checking out our freshwater pearl bracelet and matching necklace. Embrace the divine goddess in you this summer!
Suggested:
Q&C Pearls