This store requires javascript to be enabled for some features to work correctly.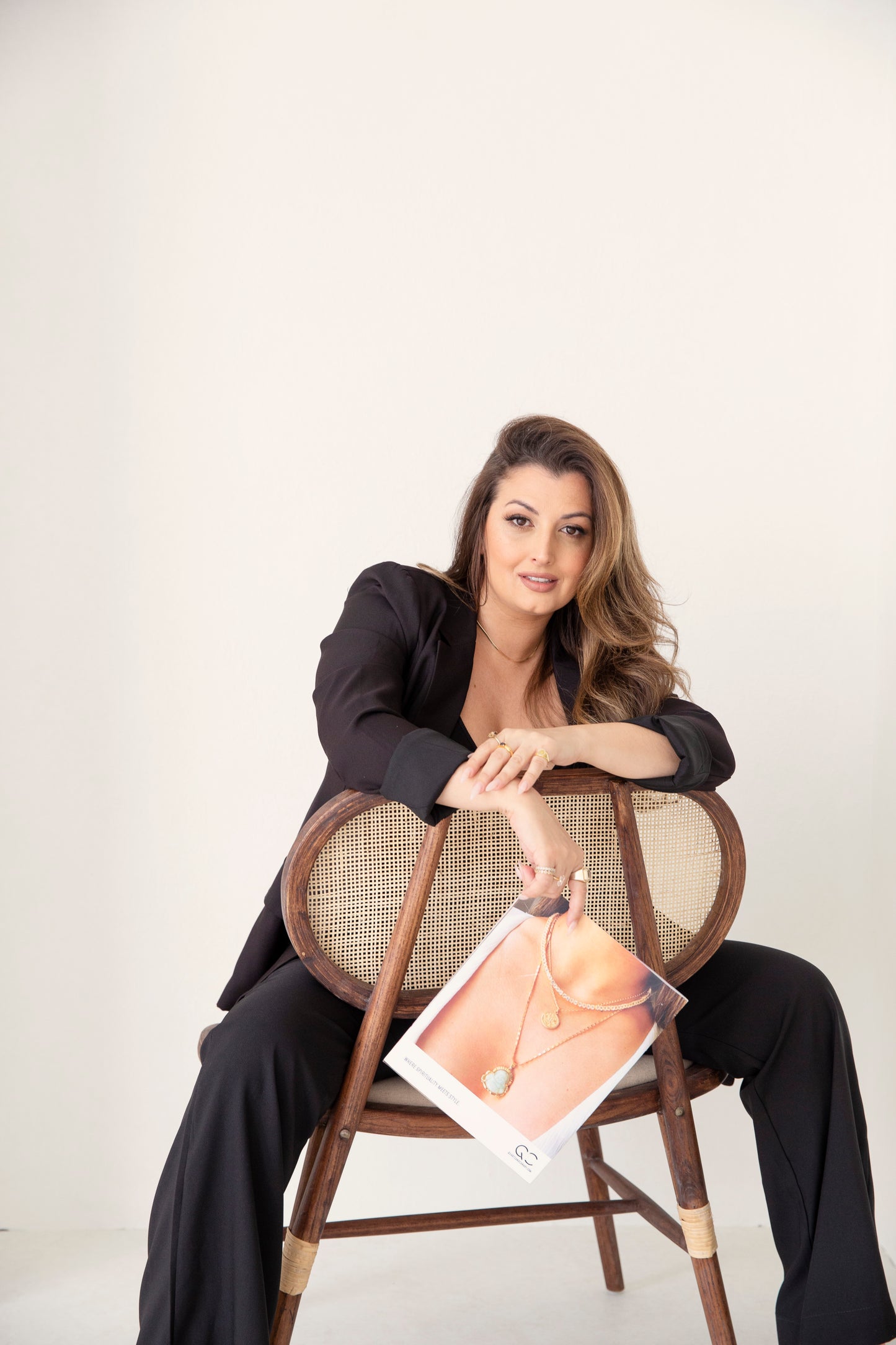 Founder & CREATIVE DIRECTOR
Meet Andrea Di Paolo,
Quartz & Canary is a jewelry company that was officially created in 2016 by Andrea Di Paolo, after almost a decade of experience within the jewelry industry. There was point in Andrea's life where her own journey of self development met her love for jewelry. After years of becoming a sought after professional in the corporate world, Andrea began to make the transition to her life's mission. The energy that gemstones carry sparked the idea of Quartz & Canary in 2014. After 6 years of organic growth post the companies launch, Andrea has now created her dream collection and is noted as a Canadian Jewelry Designer. Her style takes the ordinary to the extraordinary with simple changes and facets to each piece. Her collection of pieces consisting of ready to wear wellness envisions crystals in an entirely new way. As the company grows her efforts and art will continue to exceed the limits of healing jewelry. With the support of her design team this canary has no cage!
Growing up in a home with unique circumstances, Andrea took the diversity she faced and opted to transform these experiences as she dedicated her life to supporting others. Her brother Marco, is one of the reasons why the word Canary was used in the company name. As a person whom has been labeled autistic; advocacy and understanding have been themes within her life. Her call to empower others with or without a voice is imminent in her pursuit to create a company of value. Her father, whom was diagnosed with Parkinson's disease a young age imparted great wisdom upon her about the mind and body connection. Understanding this connection is why she also began creating jewelry with an impact. The female influences in her life allowed her to maintain her efforts and persevere with patience.
It has become her mission through her art to offer sacred amulets and pieces that supports each individual's journey, uniquely.
Her desire for change is embedded in all aspect of the company from the sustainability, style, affordability, and energy each masterpiece offers. In 2020 a great shift occurred and Q&C was taken to new heights. House innovations and staples have been Andrea's mission when developing a timeless collection. In 2021 and 2022 she was featured in Halle Berry's : Respin for the top crystals selections for each year. With this continued success Andrea is dedicating herself to bringing this community of love and awareness to each doorstep globally. Her personal spiritual and life coaching practice has grown in the last two years tremendously. It is her privilege to open up the formal practice in May of 2022. She continues to lead her life by a phrase she often says: "without a passionate disposition for change, there is no progression."
The name itself is representative of the company's belief systems and principles they intend to offer to the masses. The company name originated from her experience in the healing and jewelry realm.
Quartz is a stone which in the spiritual realm is known to be a master healer. It is a stone that is not only used within watches to move the hands of time, but it can also be used to enhance the body's metaphysical properties and energy centres. It is also the most commonly sourced stone in the world, centrally found in several areas of modern technology. It is known as the almighty amplifier. The Canary is forever known as the whistleblower, the energy of change that opens us to the gateway of truth. The canary was selected as a second part of our coveted name as it also represents the tale of the canary going into the coal mine- warning those working that the oxygen in the mine was low. It also represents the amplified voice and version of you. Why is the Canary's song so popular and heard by many? Because it sings from its heart space and loudly to be heard by all! The brand's origins come from one innovation, the Connected Q&C Bracelet. With over 100 variations, Andrea developed this bracelet with the intention of giving everyone an opportunity to find something that deeply resonated with them. It was about what amplified the person directly. Similar to the name, the combination of quartz and the animal totem of the canary offers an amplified and unique version of who you are. Having a customizable product is a large reason the company implores its clients to discover themselves through purchasing a healing stone that will help create, enhance or strengthen specific qualities within them throughout life's journey. Quartz & Canary strives to offer a variety of gemstones and customizable designs to allow each individual's personality and character to shine through. Andrea strives to produce unique and versatile designs for universal wear. Certain pieces are limited in quantity due to product quality and the rarity of stones. This brand has been established in the greater Toronto area and strongly supports local businesses and the sourcing of each piece. Quality and longevity of product is paramount to the company's essence. Andrea's experience and meticulous eye for quality and details are evident in every piece.
Quartz & Canary offers three promises :
Quality:
We stand behind creating quality products that offer superior satisfaction and support the collective energy of our consumers. Our products are largely made from semi-precious gemstones as well as semi/precious metals. Going over and above with our design work is our mantra. We spare no expense in product construction while maintaining equitable price points. Each design is highly intentional, specialized and built with longevity in mind. A one year warranty accompanies each piece.
Authenticity:
Authenticity, advocacy and visibility are what we aim to create through our imagery and information. We strive to offer the highest level of copy available to our community. Whether through digital media or spoken word, we provide product information, stone knowledge or motivation to the masses. Our founder aims to provide only information that is inspiring and useful to each client.
Community:
We lastly seek to foster a community where our clients can absolutely feel safe to learn and grow with us. Q&C Courses, interactive lives, vip events and personal touches are all of the ways where Quartz & Canary has created an interlaced community of STYLE & SPIRITUALITY. Our staff actively supports the clients emotional and jewelry needs through close communication and a personal approach.
We at Quartz & Canary act as the yellow spirited messengers supporting those who need us most. We leave no one behind. On the animal totem, the canary, beckons energy of spiritual illumination, allowing for this new light and song to provide healing. Pushing the negative energy away as it sings, making way for a new positive foundation! Scientifically it has been indicated that when the canary sings, its mind visibly expands, enhancing its awareness and eliminating any distress. We at Quartz & Canary want to see you living your truth and sing your song!